Getting the Most Out of Your Washer & Dryer Installation
Professional Installation & Repairs for Busy Homeowners Like You
At MyHome.Pro, we want you to get the most out of your washer and dryer installation or repairs and understand the importance of reliable service. If you already have the existing plumbing connection, replacement is easy enough. However, if you are working in a new location or need to upgrade your current system, you should call a pro at MyHome.Pro. With our team of unparalleled washer and dryer repair specialists, you can rest easy knowing that your installation or repair will go off without a hitch.
Choosing MyHome.Pro for your appliance repairs means choosing peace of mind because you know that our experts have experience with every major brand of washer and dryer. We also test and retest our work to ensure flawless operation and installation so that you have confidence in our ability to hold up our end of the bargain. With our team, you never have to settle for less than the best. We strive to exceed expectations and provide a beyond-customer experience in every project we accept.
When your washer or dryer breaks down, daily life can be challenging. Laundry is a tedious task that we often take for granted, only realizing the convenience of our appliances once they are inaccessible. Don't let malfunctioning washer and dryer ruin your day– look to MyHome.Pro for quick, high-quality, long-lasting, and efficient washer and dryer installation and repair services.
Use the contact us form below or call us at 972-474-8684 to consult with North Dallas, Plano, and Carrollton's most effective washer and dryer repair and installation specialists.
Washer & Dryer Repair vs. Replacement
How Life Expectancy Plays a Part in Whether You Need a Replacement
Finding ways to save money is at the top of every homeowner's mind. Still, when it comes time to decide between repairing or replacing your old washer and dryer, the right decision is not always so cut-n-dry. The typical laundry appliance has a life expectancy of about ten years– maybe more if well-maintained, maybe less if left unattended. So you can safely say it's time for a replacement if older than that. The problem comes into play when looking at appliances under ten.
Deciding if you should replace an appliance depends less on whether the machine is fixable and more on how much the repair will cost. If less than five years old, it makes good financial sense to replace your laundry appliances if repair bills equal or add up to 50% of what it would cost to replace. For example, if a new washing machine costs $1,000, a repair bill of $500 or more for your old device would reasonably constitute upgrading to a new system.
As your washer and dryer age, they will encounter more issues and require more frequent repairs. However, repair bills only need to equal 20% of what it would cost to replace an appliance if it is older than seven. The reason is that, by this point, you have usually recouped your initial investment. Additionally, the savings introduced by an upgraded system outweigh the long-term cost of inefficiency and repairs.
How to Know When You Need Washer & Dryer Repair
It is common for people to close their eyes and hope their challenges disappear. Likely we let ourselves ignore them until they cause enough damage to make us pay attention. It's no different with appliance repairs, especially for washers and dryers. Recognizing the signs of trouble and developing an ability to spot problems in their initial stages will go far in helping you prevent costly repairs and premature replacements.
Signs that point to trouble for both your washer and dryer include listening for excessive noise and ensuring the appliances stay put during their cycles.
Excessive noise – Some noise is normal, but extreme banging and rumbling indicate your washer or dryer needs attention. Several root sources can cause excessive noise, but they have one thing in common: ignoring them pushes you toward a new washer and dryer installation.

Staying Put – Your washer and dryer should not shake and buckle while cycling. Typically this requires you even out the legs and evenly distribute the clothing inside; however, it may also indicate an internal malfunction.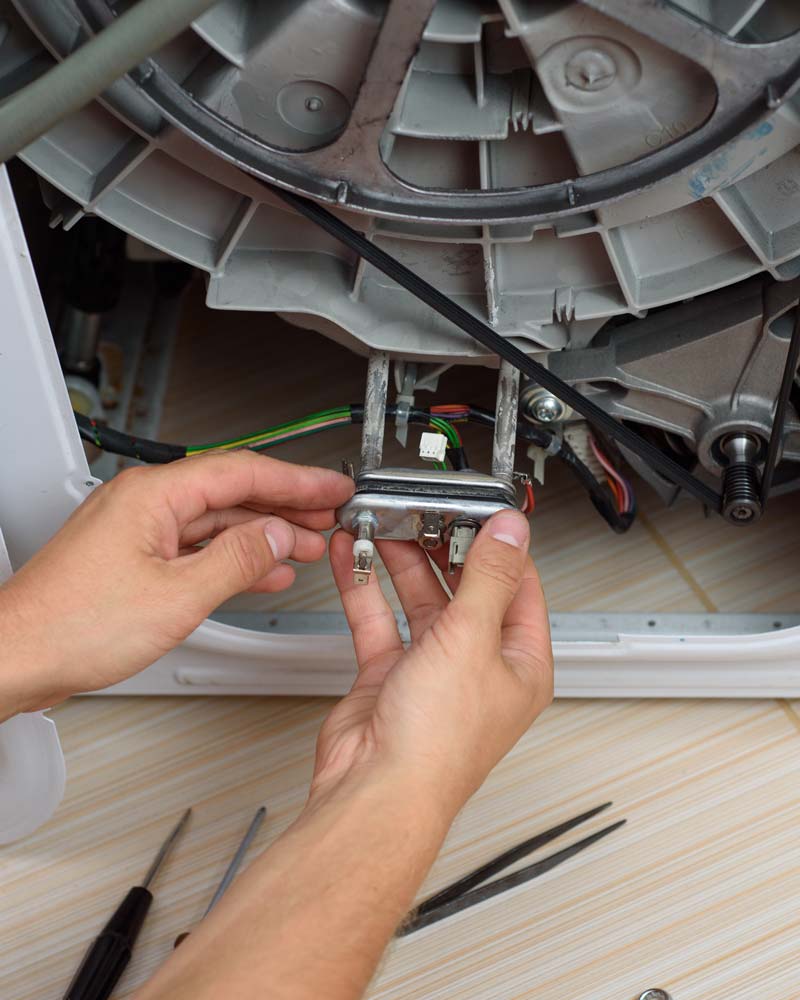 Get Ready for Your Washer & Dryer Installation!
Selecting a New Washer & Dryer and Preparing for Its Installation
Upgrading your home comfort with washer and dryer installation services from MyHome.Pro simplifies your life dramatically because we perform the work flawlessly and ensure your appliance meets your every need. Still, keeping your head above water can be challenging when selecting new laundry appliances and preparing for installation.
Before purchasing anything, you must do your research to ensure a smooth transition. However, by keeping a few guidelines in mind, we can quickly narrow your search while encouraging confidence that supports your lifestyle.
Washer and dryer installation is intimidating, but with the right help, it doesn't have to be. Consult with a MyHome pro today and find out how to relieve your home comfort burden– we're ready and waiting to turn your home into your own resort!
Washer & Dryer Installation & Repair Solutions From MyHome.Pro
Pro Services That Emphasize Reliability and Endurance
When experiencing washer and dryer malfunctions, it is easy to feel like you are back in the dark ages. Unfortunately, matters are only made worse by repair services that don't quite meet your expectations; whether they were late, the job was incomplete, or their work was sub-standard, it's time you experience a more reliable home comfort.
At MyHome.Pro, we understand that home appliances maintain households so homeowners can manage tasks like work and parenting. We commit to ensuring your access to the home comfort and conveniences of modern life. As a company with nearly 30 years of experience in home services, we have established a reputation for ourselves as honest and reliable because we make the needs of our customers paramount.
If you are looking for a different method of home comfort, one that treats you like a person, prioritizes your concerns, provides honest advice, and performs quality work at a fair price, connect with the MyHome.Pro team of specialists today for your washer and dryer installation needs – let us redefine home comfort in your eyes!