Pest Control Services in Dallas, Plano, and Carrollton, Texas
It's Time to Take Back Control of Your Home!
Effective Dallas Pest Control Company for North Texas Locals
Prioritize Comfort With Pest Control Services by MyHome.Pro
The heat and humidity common in North Texas make it an attractive place for pests to migrate, and pest control services that much more critical. From spiders and mosquitos to mice and bats, Texas draws in many insects, vermin, rodents, and other invasive forms of wildlife; it's only natural that a few of them try to make a home with you. As part of our triple zone plan of attack, we provide a range of services designed to keep your home pest-free. This ensures that the pests are caught and removed before they become infested and cause extensive damage.
Regular visits from a pest control company can help you reclaim your space from unwanted visitors so that you are not at the mercy of whatever the wind blows in this summer. Instead, reach out to the experienced and friendly team at MyHome.Pro. We can provide comprehensive pest solutions guaranteed to work after the first visit and a home-comfort experience that raises the bar on customer service standards.
We have been providing thorough and effective pest control services in North Dallas for over 20 years, so you can be sure your home is in good hands when you put it in ours. We take great pride in offering excellent service at affordable prices to residents of Dallas, Plano, and Carrollton, so stop letting pests wreak havoc on your home comfort experience– connect with our pest control service experts to restore your home as your resort!
Common Pests Found in Texas Homes
Comprehensive Pest Control Services for Every Type of Visitor
Unfortunately, North Texas homes make popular tourist destinations for various pests. Keeping your home free of infestation can be challenging when long, hot summers mix with heavy rainfall. High temperatures and humidity are a lethal combination when it comes to attracting a multitude of different species. Some of the most common uses for our pest control services include:
Mosquitos

Cockroaches

Household / Fire / Carpenter Ants

Bed Bugs

Fleas

Ticks

Termites

Yellow Jackets / Wasps / Honey Bees

Spiders / Scorpions
Beetles / Earwigs

Mice / Rats

Snakes

Squirrels

Chipmunks

Bats

Possums

Raccoons
The good news, however, is that a pest control company can supply you with the support you need to keep pests away. With the right plan, you can banish unwanted guests from your home and yard once and for all.
At MyHome.Pro, we specialize in pest control services catered to Dallas, Texas, and surrounding areas. When you use our services, we do what we can to protect your home from pests by making a careful inspection of the interior and exterior areas of your property, creating a plan of attack that knocks their colony out at the source, formulating long-term solutions to keep them away, and returning at regular intervals for pest prevention. If you struggle to maintain a pest-free home, no one exterminates and prevents pests from returning more thoroughly than MyHome.Pro. So give us a call today for your free consultation!
More on MyHome.Pro's
Pest Control
Services
We Take the Offensive!
MyHome. Pro's Triple Zone Approach to

Pest Control Services

At MyHome.Pro, we don't just treat the problem; we seek it out and prevent it with our triple zone approach to pest control services. Simply put, we reinforce protection on the three main paths that pests take to infiltrate homes: through the yard, at entry points around your home and its foundation, and finally, indoor moisture areas. Triple zone protection is a guaranteed service offered at every initial visit, and the zones break down as follows:
ZONE A:
This covers the home's perimeter and protects the yard. We meticulously inspect your full yard and treat it with a granulation barrier band. This banding method lets us lay out the necessary protection without oversaturating your yard with chemicals.
ZONE B:
We focus on power-spraying the full-home perimeter in zone B. Here we take a particular interest in access points to your home, including weep holes, sealing doors and windows, and garages. This stage ensures that insects and vermin cannot cross the access points into your house.
ZONE C:
Our "safety first" indoor service prioritizes the health and safety of you and your family. It focuses on specific problem areas, such as entry points or moisture spots. It also treats the baseboards to keep pests from returning. Because of our actions in zone A and B, we can prevent pests from entering and limit the use of potent pesticides indoors without potential health risks.
By simultaneously attacking these three exposure zones, MyHome.Pro can effectively and efficiently provide long-term pest control services for North Dallas residents. The ongoing relief experienced by our customers is a direct result of our thorough attention to detail and commitment to using low-risk, EPA-approved products– which still provide effective pest control services for our customers without the risks.
At MyHome.Pro, we believe in proactive action and encourage you to act before an infestation. Unfortunately, it is easier to prevent an infestation than to get rid of one, so don't wait–set up a consultation with the leading pest control company in North Dallas today!
The Importance of Pest Control Service at Regular Intervals
Get the Most Out of MyHome.Pro Pest Control & Prevent Unwanted Trouble
Regular pest control services keep your home free of intruders and any potential damages they cause. Unfortunately, most pests have an infestation cycle of 30 to 60 days meaning the quarterly protection plans cannot prevent infestations, only exterminate them– not always effectively. Preventing pest infestation has many benefits, such as keeping diseases at bay, reducing health hazards, encouraging sanitary living conditions, and minimizing allergies and allergic reactions.
MyHome.Pro is different from other pest control companies because the health and safety of your family are our top priorities. Our recommended service plans operate on a 60-day cycle. This type of schedule has proven to be the most effective means of protecting your home because it removes common pests before they have a chance to get comfortable.
To simplify pest control services further, we have a membership plan that bundles all the most essential services in home comfort into one convenient package. With the MyHome.Pro Elite membership, you no longer have to keep up with multiple home services and home service providers. Instead, our team takes care of everything, and you save money on services you would have used anyway.
Get started with our pest control services by learning more about the MyHome.Pro Elite membership today!
Safety Considerations for Pesky Infestations in Dallas, Texas
Fostering a Pest Control Company Committed to Your Health
Pests are more than unwelcome guests. They are health hazards that can negatively impact your family and cause extensive damage to the structure and foundation of your home. The best thing you can do to prevent the fallout of a pest infestation is to prevent it from ever happening. With that said, insecticides are highly toxic chemicals that can also harm your family and are not as effective as using a professional pest control company. Still, we understand that we live in a DIY society, so here are some things to consider from the EPA when exterminating your home.
Use bait instead of spreading pesticides all over your yard.

Use ready-to-go pesticides when possible.

Fogging devices are only for times when it is necessary and should be left to a professional.

Never use exterior chemicals indoors.

Store chemicals in their original containers

Properly dispose of chemicals.
When you follow these guidelines on pesticides from the EPA, you can get rid of pests while keeping your loved ones safe; however, there are also steps you can take to further prevent pests from arriving in the first place.
Prevent Intruders Between Pest Control Service Visits
The Do's & Don'ts For A Safe & Sanitary Home, Devoid of Pests
As the leading pest control company in North Texas, we think it is important to educate homeowners on steps they can take to prevent overbearing houseguests from making themselves at home. So here are some of the most effective ways to keep pests away long-term.
Patch Exterior Holes
The first step in preventing a pest infestation inside your home is keeping them from finding a way in. Some entrances will be apparent, like door and window seals that are not tight or leaving them open without screens. As a proactive measure, make regular interior and exterior inspections of your home to check for any cracks or holes. Patch or fill any holes you discover immediately, paying close attention to the foundation, loose siding, roof, and utility lines. Not only will this help prevent infestations, but it will also keep your home in better shape by deterring wear-n-tear damage on your house.
Secure Containers
It is near impossible to prevent pests without air-tight storage containers. Most invasive species have superpower-level abilities that help them smell and track down food. For example, ants have five times as many smell receptors, making it very easy to smell those crumbs you dropped from a long way off. That is why preventing pests can become five times easier when you use food storage containers that hold the smell.
Deep Clean Your Home (Soft Surfaces Too!)
Giving your home a thorough deep cleaning is an excellent way of preventing pests because you are actively getting rid of things that could tempt pests to enter in the first place. Forgotten crumbs beneath the stove and that lost sock under your couch create breeding grounds for pests to make themselves at home and, well, breed.
While deep cleaning, do not forget to sanitize soft places as well. Carpets, beds, couches, and rugs are an oasis for creatures like bedbugs and fleas and can lead to some of the most horrendous infestations– you should avoid them at all costs. To minimize your risk of bedbugs and fleas, run anything that will fit through a sanitizing rinse every so often and regularly disinfect your mattress.
Watch Landscaping Closely
It is easy to focus on the interior when it comes to pest control services; however, they can be just as much of a nuisance and cause as much damage outside your house. To stay pest-free, you should oversee your yard for any changes that indicate new guests have taken up residence. To ensure your success, store wood piles away from walls, keep your grass cut and gutters clean, and monitor any changes to the foundation, siding, or roofing.
Properly Dispose of Trash
Garbage is like a feast for pests, so letting it accumulate or not properly disposing of it can attract different species, big or small. If you use a weekly trash service, keep it outside your house and garage. Doing this minimizes the number of pests crossing the barrier of your home.
Inside, switch out trash cans without lids for those with covers to make them more challenging to access. If you continue having trouble with vermin and insects indoors, consider prewashing food containers before throwing them away– after all, they aren't interested in the containers; pests want the residue of what was inside.
Does This Infestation Require an Expert?
Why Professional Pest Control Services Are More Thorough & Last Longer
In pest control service, there is no substitute for professional help. DIY methods can be effective in the short term, but the problem with relying on them as a long-term solution is that they don't last. In fact, most of the hardy invaders prove themselves to be stronger than the insecticide. Amateur extermination methods do not phase them because they have their own natural forms of protection. For example, some cockroach species have a shell that allows them to withstand an entire bottle of roach spray without sustaining any permanent damage.
Additionally, finding the right pesticide for your invader is not as easy as it seems. Every pest reacts differently to this harmful chemical, and finding the one that works on your pest is often like pulling numbers out of a hat– random.
At MyHome.Pro, we have an in-depth knowledge of the inner workings of the most common pests in North Dallas and have become experts at finding and removing them. Our services are so effective because we understand these creatures' natural instincts and patterns, allowing us to find and exterminate them more quickly with longer-lasting results. Furthermore, your family's health is our primary concern. We have spent years in the industry developing smarter, safer ways to remove pests so that you don't have to put those you love at risk in exchange for a pest-free living environment.
If you are tired of living with unwanted house guests and are ready to take back your life, call MyHome.Pro– we'll help you turn your house into your resort.
Will You Know the Right Pest Control Company When You See It?
How to Recognize the Best Pest Specialist for Your Home Comfort Needs
When you are looking for a provider of home comfort, regardless of the service, it is crucial to find a company you can trust– it is your home, after all. It is no different for pest control services. The right pest specialist will provide the necessary services to restore your comfort. Still, you should also hold out for one that prioritizes your family's health and safety. Don't rush into a decision. You are paying for this service, and you deserve to feel heard and understood.
If you are looking at hiring a pest specialist for large projects, take multiple bids. Be wary of the price, but don't focus on the lowest prices. Instead, weigh each offer's value and determine which gives you the most for your money. While vetting different companies, ask about licensing, certifications, and liability insurance. You do not want to waste your time with any company lacking in those three areas. Finally, if a guarantee is given, ensure you understand what it covers, how long it lasts, and that you get it in writing.
We hope that you partner with our team for pest control services, but we understand that everyone's needs are different, and we may not meet yours. Still, we want to ensure you get the right support, so follow these guidelines to help vet home service companies.
If you have any questions, a friendly and knowledgeable team member is ready to connect with you now!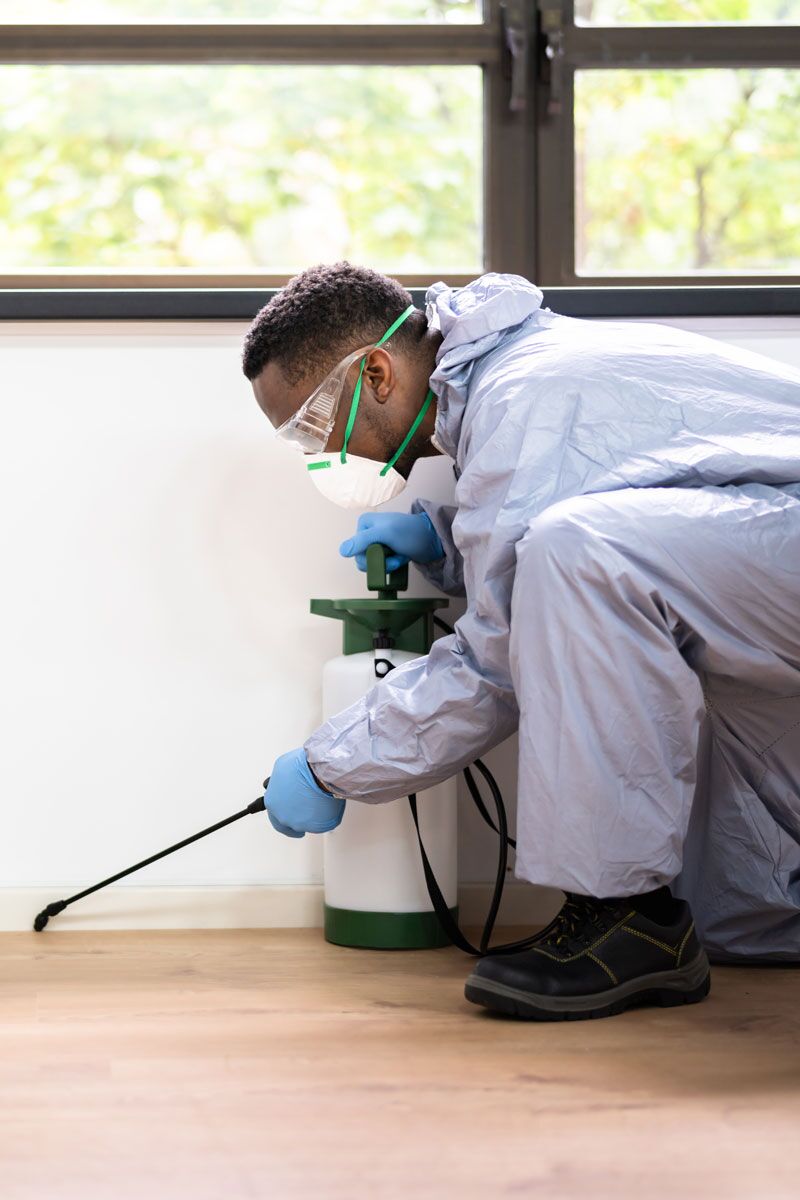 Avoid Infestation, Frustration, and A Potential Health Risk
Connect with Our Team of Pest Control Specialists in Dallas, Texas
At MyHome.Pro, we are very serious about pest control service in Dallas, TX. So if you are ready to take your home back from unwanted pests, it's simple. Fill out the form below or connect with our team of pest control specialists at (972) 474 – 8684. We are eager to help you turn your home back into your own personal resort – so don't wait!